Banquet
On Thursday, July 7, you are kindly invited to the Workshop Banquet at Glasklart. The dinner will be co-hosted by Region Skåne. It starts at 19:00.
The venue is in the harbour area of Malmö (Dockplatsen 1, 211 19 Malmö), not far from the Central Station.
If the weather is nice, it's a good half-hour walk from the the Hotel (Scandic Triangeln).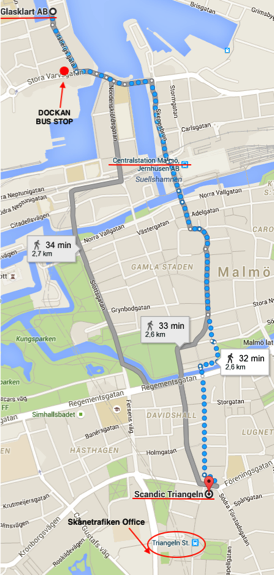 Alternatively, you can go by taxi (approx. 60 - 100 SEK). Taxis can be ordered from the Hotel Reception Desk or under the following phone numbers: +46 40-979797, +46 40-232323 or +46 40-330330.
Public transport by bus is possible but not recommendable, as there is no direct connection and the duration of the trip is almost the same as if walking there.
Going by train can be an option, since the trains (both Öresund and Pågatåg) going from Triangeln Station towards Lund, Kalmar and many other destinations reach Malmö C (Central) after 3 minutes (1 stopp), from there it is 1.2 km by foot.
How to buy a ticket for the train:
Using the Skånetrafiken App
At Skånetrafiken Office in front of Triangeln Station
Skånetrafiken selfservice machines placed at the entrance of Triangeln Station (credit card, Maestro)
Using a Jojo card (it can be bought at Skånetrafiken Office)
You can not buy a ticket on the trains or busses in Malmö. A standard ticket is valid for 1 hour. The price is 22 SEK (19.80 SEK with Jojo card).
We're looking forward to seeing you at the dinner!
HB2016 is a collaboration between: